Posted on
Blog
Each country has its own flavor, formed by culinary traditions that have been formed over the centuries. What is the taste of Spain? Paella, tapas, jamón, wines made from sun-soaked grapes – do the culinary cards of the country end there? Spanish cuisine is incredibly diverse and tasty, full of flavours, colours, shades of flavour, impressive presentation and approach – this country has its own culinary philosophy. It is beautifully expressed by the proverb "Barriga llena, corazón contento", literally translated as follows: "Your stomach is full – and your heart is full of joy". The habit of Spaniards to arrange late meals – to have dinner after 9 pm, surprises many foreigners, but such centuries-old traditions. Food is taken very seriously here.
What should I say about Spanish cuisine? The main products that are common to all regions are olive oil, wine, sweet pepper, onion and garlic. Each region is a different culinary country, such as the famous paella, a Valencian dish, and gazpacho soup, a Andalusian treasure. It is also worth noting that tacos is not a Spanish dish, but Mexican, and paella and ham are not limited to siesta country's national dishes. There are many more national and regional dishes that have become iconic for the whole country in Spain. Let's get acquainted with them.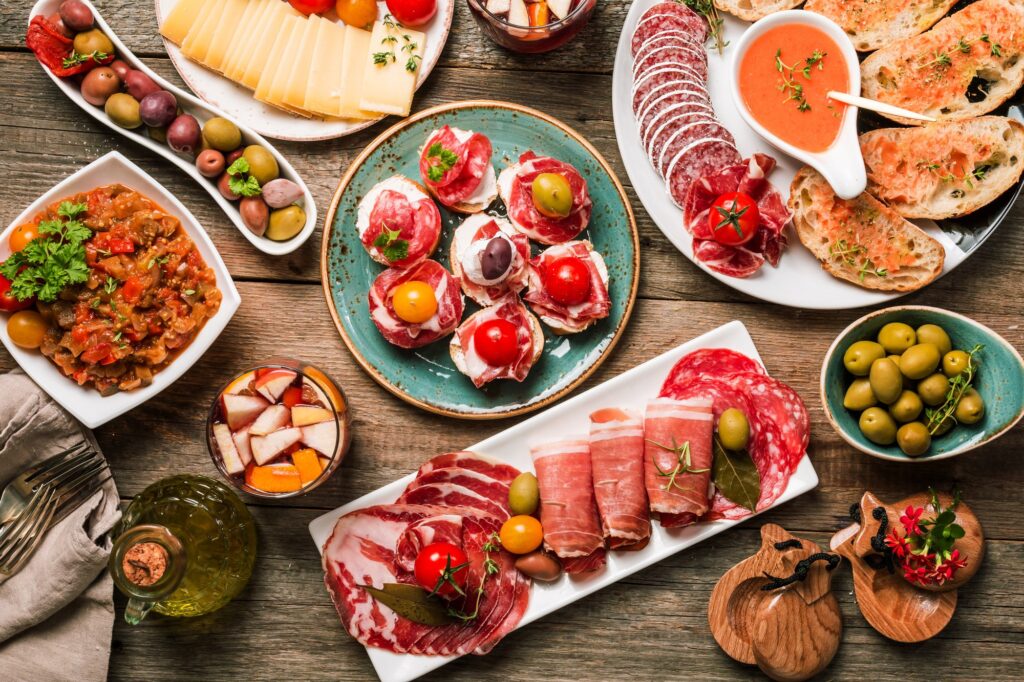 Potato tortilla is the most common dish in the country
An omelette with onions and potatoes is what many Spaniards in different parts of the country really eat regularly. It is believed that the recipe for this dish was born in Navarre, when a Spanish general suddenly came to a poor woman for unknown reasons. Having collected everything that was in the house – potatoes, onions and eggs, the enterprising Spaniard invented the dish, which later became the most popular in the country. Many tourists, contrary to expectations that they will be offered paella at every corner in response to a request to bring something traditional, receive an offer to taste the tortilla with potatoes, recipes of which with various additives are now, of course, incredibly many.
The famous paella is not always good
In order to taste a truly proper Spanish paella, you need to know where it is well cooked.  Not every restaurant in Valencia will be as good as it should be, and if you're in any other region of the country, you have just as much chance of tasting a great paella as you do in her homeland. This dish has won over gourmets from all over the world – whatever it is cooked with, if it is done in every way, the paella will be incredibly good. That's why it made her famous all over the world!
The most signature squid tapas sandwich
Squid sandwiches are among the most common in the country. Preparation of squid sandwiches is simple: squid rings 1cm thick are roasted in a batter made of flour with yeast on olive oil, put into a crispy baguette and peeled with lemon juice or mayonnaise. They belong to the category of "tapas" – the most famous Spanish snacks served with beer and wine. Tapas refers to a huge variety of appetizers, so it is difficult to understand anything specific about them. In addition to squid sandwiches, tapas, which is popular throughout the country, can be called aubergines with pepper, grilled and served on fried luggage. And the simplest and most common is 'pan de crystal': a slice of bread with tomatoes watered in olive oil.
If you like Spanish cuisine and the country itself, you may want to start looking at the local property. Now you have the opportunity to buy property in Spain at a good price. To do this, you can simply go to https://yes-mallorca-property.com/offers/sale/.